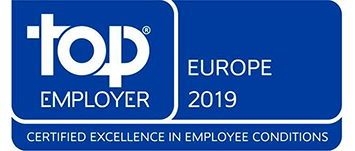 Santander has received the Top Employer Europe 2019 certification, which acknowledges excellence in the working conditions it provides for its employees and its contribution to their personal and professional development. The Group is being awarded this certificate for companies in eight European countries. Out of them, Santander Consumer Finance has received the certification in Austria, Belgium, Germany, Italy, the Netherlands and Poland.
Top Employer Institute, a global organization dedicated to enriching the world of work and connecting the best employers on the planet, helps the Group to increase the impact of strategies focused on the development of employees. Meeting the requirements set by Top Employer Institute for obtaining the certificate brings Santander closer to its goal of becoming one of the best companies to work for, reflecting the great work done on attracting, developing and retaining talent.
This year, the Group has also achieved its goal for 2018 set on Investor Day 2015: that it would belong to the Top 3 preferred banks to work for in most of its main geographies. Santander has also been included in the Top 10 Company Ranking in 5 of its main markets.
Over the past few years, the Global Engagement Survey has also allowed the Group to improve some factors demanded by Santander employees, which are helping forge ahead with the goal of being the best place to work. Since the launch of the survey in 2014, engagement has grown almost 10 percentage points, reaching 82% within the Group.
Together, we are continuing to build the best place to work.
More information: Top Employer 2019