Our business model rests on three solid foundations:
Local scale and global scope. Our local scale is based on three geographic regions, where we maintain a position of leadership in our ten core markets. Our global businesses allow for greater collaboration within the Group to generate higher income and efficiencies.
Customer-centric approach. The unique personal relationships we build strengthen customer loyalty. Santander has 148 million customers in markets of over one billion people. Our more than 100,000 employees deal directly with our customers every day in our vast network of branches and customer service centres. 44% of all our sales are online, and the use of digital channels is growing (6.1 million more mobile customers in 2020).
Diversification. Our geographic and business diversification make us more resilient under adverse circumstances.
We have balanced geographic diversification between mature and emerging markets.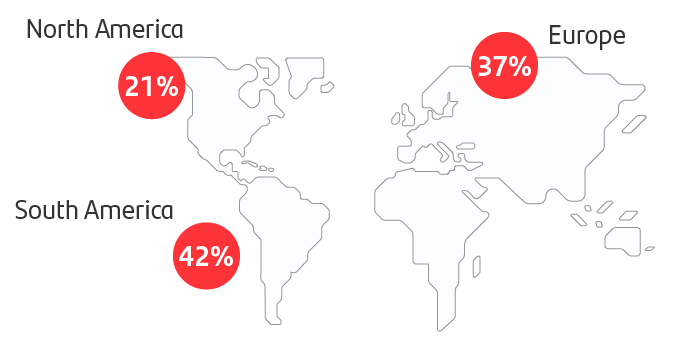 Geographic diversification: North America, South America and Europe